This is how you fulfill the German Supply Chain Act with OSCA CSR
To ensure due diligence compliance in your supply chains, you need one thing above all: transparency.
You achieve transparency by displaying your supply chain in OSCA CSR. The software maps all suppliers and partners in your supply chain for you, shows you risk assessments and warns you in case of errors or deadlines.
Read how OSCA CSR can help you secure your supply chain and enable you to conduct risk analyses, implement risk management, and take remedial and preventative actions globally!
In this e-book you will learn:

How you can view and evaluate risk assessments in OSCA and thus collaborate with your suppliers in a manner compliant with the German Supply Chain Act

How you can manage remidial measures, and
both control and review policies centrally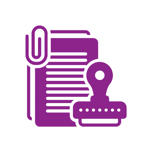 How to customize reports and document all data automatically